Iron plate
punching stencils are mainly used for metallurgy(iron ore,limestone,fluorspar,cooled blast furnace slag,coke and other raw materials),non-ferrous metals,gold,coal,chemicals,building materials and hydropower engineering,abrasive slag disposal,quarry,etc.Industry industries such as washing,grading,screening,desliming,slag removal,and dewatering are commonly used in screening,filtration,dehydration,and sludge removal operations in many industries.It has high strength,stiffness,and Bearing capacity,can be made into a variety of shapes of rigid screening filter device,stable,durable,beautiful,universal use.Next Xiaobian introduced the use of iron punching nets and maintenance methods for iron punching nets.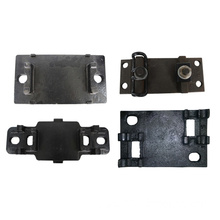 Iron plate
punching net maintenance method
1.Please use spray and protection;
2.Clean stainless steel sieve plate appearance need to be careful not to scratch the appearance of the appearance of the episode,prevent the use of bleach components and abrasive washing liquid,steel balls,grinding tools,and then when the disjointed washing liquid,wash clean water wash the appearance.
3.Dust and dust are removed from the screen mesh of the punching screen.Soap and detergent are thin or warm.
4.If the punching sieve plate appearance trademark,movie,wash with warm water and weak detergent.Stainless steel sieve screens contaminated with grease,oil,and lubricating oil are cleaned with a soft cloth coating and cleaned with a neutral detergent or ammonia solution.
5.The bleached surface of the sieve plate and the various acids are immediately washed with water,then soaked in ammonia solution or neutral soda carbonate solution,and cleaned with a mild detergent or warm water.
Anyang Railway Equipment CO.,Ltd
Business Type:Manufacturer , Other
Product Range:Slot Toys
Products/Service:Joint bar , Clip , Bolts , Railway Synitheric sleeper , Rubber pad , Tie plate
Certificate:ISO14001 , ISO9001 , OHSAS18001 , Test Report
Company Address:Simenquan Village, Longquan Town, Longan district, Anyang city, Henan province. , Anyang, Henan, China


Previous: A brief analysis of the structure of fishplate